Volunteer Story: Stewartville National Honor Society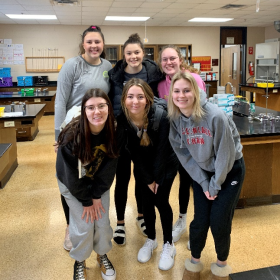 Our volunteers come from every walk of life. One particular group of weekly Meals on Wheels volunteers is the Stewartville National Honor Society. The high school community service group, National Honor Society, focuses on four pillars; service, character, scholarship, and citizenship. With a rigorous application process, including a 3.5 GPA or above, six letters of recommendation, an essay, and previous displays of service, a panel of teachers select the most qualified candidates to join the National Honor Society at Stewartville High School. Each year, Stewartville National Honor Society members complete approximately 1,920 hours of various community service!

Twelve of the Stewartville National Honor Society members focus their service serving Meals on Wheels. Flexibility in senior schedules allows groups of 2-3 students to volunteer together delivering their weekly route. "Everyone plays a role, whether that be driving, GPS directions, or most importantly, handing meals to those in need," said the group's coordinator, senior Isabel Siple. "Meals on Wheels is one of my favorite volunteer opportunities I have ever participated in. The ability to hand deliver lunches to a handful of homes each week is simply heartwarming. Knowing these people are receiving hot, nutritious meals from Family Service Rochester reminds me of the incredible program I am proud to take part in."

Asking student members about their favorite part of volunteering with Meals on Wheels, we received these heartwarming responses:

"My favorite part about delivering for Meals on Wheels is getting to know the people we deliver to. They are the sweetest people and are always so appreciative when we arrive to give them their meal."
-Rachel Boe (Grade 12)

"Volunteering for Meals on Wheels has been such a fun experience. My favorite part is seeing the joy and gratefulness of the people we bring food to. It makes me excited to do Meals on Wheels each week and be able to interact and help people."
- Tressa Smith (Grade 12)

"Something I will always remember about doing Meals on Wheels is just seeing the smiles on people's faces when we bring them their meals. Also forming relationships with them and looking forward to seeing them each week."
- Lauren Howe (Grade 12)

Thank you to the members of the Stewartville National Honor Society for their dedication to delivering Meals on Wheels and a friendly visit full of smiles.

Do you know a group looking to give and get involved? Connect with our team to learn more at 507-287-2010 or volunteers@familyservicerochester.org.