Veteran siding project in Faribault
While many are wrapping presents for this holiday season, a Faribault veteran is doing a little wrapping of his own.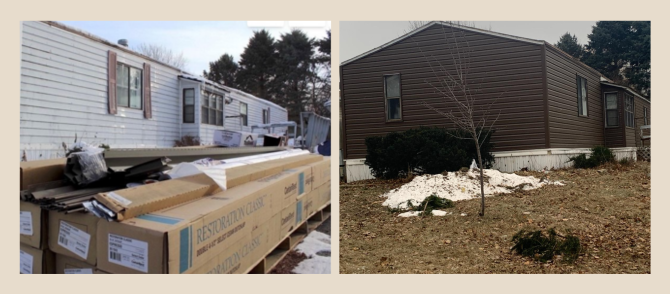 Veteran siding project
by Tom Nelson editor@apgsomn.com
Dec 21, 2021
At the time of the year when many are wrapping presents for the holiday season, Faribault's Wayne Kukacka will be doing a little wrapping of his own thanks to help from Family Service Rochester, Meals on Wheels America and the Home Depot Foundation.
The actual wrapping will take place on Kukacka's house as he will be getting new siding and gutters that will help the 61-year old veteran maintain his home in Faribault for many years to come. Funds for the project, which is getting underway this week, are supplied through The Home Deport Foundation Helping Homebound Heroes initiative that supports home modification and repair programs that are designed to help veterans live independently in safe homes. "This program is specifically a grant for Meals on Wheels of American and funded by the Home Deport Foundation and it is to help veteran with home modifications and to allow them to stay and live independently in their homes as long as possible," Jessica Thornton, Senior Independence Program Coordinator of Family Service Rochester, said. "It is anything from smaller projects such as grab bars and railings in a home, all the way up to a project like this, which is new siding."
Kukacka was born in Scott County and went on to attend high school in Faribault. Just five days after his high school graduation, Kukacka enlisted in the U.S. Army and served on active duty for eight years. Much of his active duty years were spent stationed at Fort Carson in Colorado. He later served in the Army reserves and travelled to Alaska and Honduras during his time in the military. After he completed active duty, Kukacka returned to the Faribault area and worked putting windshields together for Viracon before health issues forced him into early retirement over 15 years ago.
Kukacka moved into his current residence, which is a manufactured home. Just over six years ago. Family members have helped him with several home improvement projects such as new flooring but the exterior walls and gutters were in dire need of repair. "We put a chunk of money into fixing this place up but I couldn't find anyone to do the outside," said Kukacka, who became aware of potential funding from Family Service Rochester while reading the newspaper.
Kukacka connected with Family Service Rochester and that organization was able to assist the homeowner in securing the extra needed funding through The Home Depot Foundation Helping Homebound Heroes grant. More importantly Family Service Rochester was able to connect him with local contractor Bayport Roofing and Siding to help him get the project started. "For our services, we use a mixture of volunteers and contractors to help us with these projects," Thornton said. "This project at Wayne's home is a larger project, so we have Bayport Roofing and Siding and they are the contractor who will be helping Wayne with the siding on his home." For projects like this, we use a contractor and with this grant we were able to assist the homeowner and pitch in some of the funds to get this project done."
Family Service Rochester has helped arrange for four of these projects for veterans in the Faribault area this year. "We initially started in the Olmstead County area and recently in the last couple of years have branched out into Rice County with our Neighbors Helping Neighbors program," Thornton said. This program includes helping seniors and disabled people with anything from handy worker projects, snow removal, housekeeping, and rides to appointments and companionship.
The Neighbors Helping Neighbors programs has utilized funds from the Home Depot Foundation grant to specifically help Faribault veterans with projects in both 2020 and 20 21. "We had this grant (Home Depot Foundation Helping Homebound Heroes) in 2020, had it this year and we are lucky enough that it looks like it will be rolled out again in 2022. We are excited to continue with these types of vet projects in 2022," Thornton said.
An avid fisherman and jigsaw puzzle fan, Kukacka noted, "When it is finished, I will have a place I can live forever and I won't be dealing with mold...or bees. The bees found a way into the bedroom after a hole got punched into the wall and they were coming through that hole into the house. When we opened the wall, between the joists there was a honeycomb about three feet wide." Kukacka temporarily solved his bee issues with a fan in front of the hole but the new exterior siding will help take care of those issues permanently, and new gutters will help potential water damage. "They are going to put new gutters on and that is one thing I demanded because the gutters that are on there now just let the water go right over the gutter... and that is what destroyed some of the walls in the house," Kukacka said.
Thornton said that once an senior (60 years or older) or disabled person contacts them to inquire about potential help, Family Service Rochester will have Rice County Senior Services Coordinator Anne Pleskonko do a home visit, meet with the client one-on-one, find out what that person's needs are and help them create a plan. "We are very happy to now have a staff person in Faribault," Thornton said of Pleskonko, who started working this week with Family Service Rochester. "She is will be staffed at the Buckham West Senior Center, so we now have a presence in Faribault and an in-town person to contact." The process helped Kukacka create a plan to begin his home improvement project. "Wayne (Kukacka) needed new siding," Thornton said. "His home is older and this will help his home stay in good condition and that will help him continue living here. That is our focus with all of our services. Everyone knows it is better for folks to stay living in their own personal environment and living independently for as long as they can. That is good for the Faribault area residents who may be in need of services provided by Family Service Rochester or would like to volunteer to help with these types of programs, should contact Pleskonko at 507-332-7357. Information is also available on the Family Service Rochester website at www.familyservicerochester.org.
https://www.southernminn.com/faribault_daily_news/news/article_2366507a-231d-53c0-a660-579ac30125a4.html